People love quizzes and the great news is that now you can use it as an online marketing tool to grow your business. In this post I'll tell you how to make an interactive quiz for your website that will help your audience find a solution to a problem in an engaging way.
Disclosure: Please note that some of the links below are affiliate links for Interact Quizzes, meaning, at no additional cost to you, I will earn a commission if you click through and make a purchase.
PEOPLE LOVE QUIZZES
Think about it, back in the old days whenever we came across a quiz on a printed magazine, we loved taking it to find out "our relationship style" or "how well we knew our favorite celebrity".
But nowadays it's not that different, and maybe you've already seen posts of your Facebook friends who have taken one of these personality quizzes. Personally I see this type of posts all the time.
In other words, people love taking quizzes because quizzes make them discover new things about themselves in a fun way! 😊
That's why when I was approached by the Interact team to partner up, I didn't think it twice. Interact has an incredibly easy-to-use platform to create beautiful interactive quizzes for your website, blog or social media!
CREATING A QUIZ WITH PURPOSE
1. CHOOSING A RELEVANT TOPIC
During meetings with entrepreneurs and small business owners to build their online presence, a topic that frequently comes up is whether or not start a blog for their business.
So, I decided to create a quiz called "Is Blogging Right for You?" which would help my readers discover if they have the skills or the willingness to learn them, necessary to start a blog.
2. MAPPING MY QUESTIONS AND RESULTS
To help my respondents know if they have what it takes to become bloggers, I decided to ask preliminary questions that would let them know what type of blogger they'd be.
For this purpose and to facilitate my work, I used one of the many convenient Interact templates which served me as a base to ask relevant questions, such as:
"Are you a self starter?, Do you like to read?, Do you like to write?, How comfortable are you with technology?, etc".
As for the results of my quiz, this template also allowed me to segment my audience into three different types of bloggers: Hobby, Casual and Serious. This is very useful, because the tool automatically identifies the future blogger (the "Serious" type), the leads I should focus my efforts on.
3. WHAT GOAL DOES MY QUIZ TRY TO REACH?
My "Is Blogging Right for You?" quiz would serve a double purpose. On one hand, it would help my readers find a solution to a problem (in this case, find out if they should start a blog).
And on the other, it would help me segment my audience based on the results they get, grow my email list and generate leads!
How To Make An Interactive Quiz For Your Website
Let's get now to the thick of it. As mentioned before, I used the Interact platform to create my quiz. However, do note you may use other available options in the market.
Let's get started!
How To Make An Interactive Quiz For Your Website
The first step to create an interactive quiz is to choose between using a template or build it from scratch.

As I'm approaching this task as an absolute beginner, I decided to use a template to get some inspiration from what's already been created and save myself tons of time.



Next, I selected the industry relevant to my business (Blogging in my case).

In addition, you can select multiple industries.



Thirdly, I chose to build a Personality Quiz.

Alternatively, you can create other types of quizzes such as Assessment and Scored. To learn more visit: How to Create an Interactive Quiz.




Next, I selected a suitable quiz template for my topic.

As you can see in the screenshot below, there are plenty of options. However if none of them suits you, you may request a new one.



Finally, I proceeded to customize my quiz as follows:

– Used my brand's assets (logo, font, colors and images).
– Edited some of the questions and answers.
– Connected my email marketing system to my quiz (below you'll tell you how I did this).

Here's a screenshot of the Interact's quiz builder, which I find to be very intuitive.


Benefits of using a template
Using a template to create my quiz rather than build it from scratch was really convenient because:
Their templates have been proven and tested, so I didn't have to worry that my questions, answers or results were too far-fetched.
I was inspired by what's already been created.
Having a busy schedule, I was able to focus on other aspects of my work.
MY QUIZ'S COVER PAGE
And voilà! This is how my "Is Blogging Right For You?" quiz looks like. Personally, I'm quite satisfied I was able to adapt it to my own brand's style.
CHOOSING THE QUESTIONS AND ANSWERS
Selecting appropriate questions for my quiz was a breeze thanks to the template I used. What's more, I was also able to change the questions a bit to imprint my own tone of voice!
As for the style of the answers, I decided to give the quiz a fun twist by mixing text and image answers. Here's an example of each:
Additionally, you can use the stock images available on this tool or upload your own. images.
SETTING THE RESULTS
Regarding the quiz results, the template helped me to divide them into three types of blogging personalities: hobby, casual and serious. For each one of them I wrote a helpful recommendation of what to do next, taking them through a Call-to-Action to my pillar content. In this case, I'm taking my respondents to a useful post that will let them get started with Blogging.
That's right! Here's your chance to lead your audience to your primary content pillar or your social media. So, get creative and take this step strategically!
INTEGRATING MY EMAIL SYSTEM
Interact allows you to connect your quiz to several email marketing systems. I connected mine to MailChimp.
From that point, and depending on the results from the quiz, I was able to strategically segment my audience into three categories for which an action would be taken.
Finally, I was able to successfully test the connection between my quiz and MailChimp. It was a really flawless and painless process.
WEBSITE IMPLEMENTATION
After making sure my quiz worked properly, I proceeded to publish it and implement it on my website by simply:
Creating a page where I would embed my quiz.
Installing Interact's plugin for WordPress websites.
But enough talking. Here's my quiz for you to try out!
OVERALL A GREAT EXPERIENCE
For a first time experience at building interactive quizzes, I'd say it went quite well. I personally found Interact's platform very easy to use, adaptable to my brand and it comes with live examples from famous brands and influencers, and helpful documentation.
Moreover, after deciding on my questions, answers, results and recommendations, setting up my quiz was really fast, taking no more than 30 minutes!
Now my next challenge is to build another quiz, but this time from scratch! I can't wait!.
USE QUIZZES TO GROW AND DIFFERENTIATE YOUR BRAND
In my opinion, quizzes are innovative lead magnet tools that have so much potential to bring new targeted audiences for your business.
Furthermore, they are still underutilized, which means that you could include them in your online marketing strategy to differentiate your business in a saturated digital world. If done well, people will learn about themselves, have an interest towards your business and ultimately view you as the subject expert.
CREATE AN INTERACTIVE QUIZ FOR YOUR WEBSITE
Start creating an interactive quiz about anything, from TV series to science, and implement it on your website, blog or social media with Interact's platform.
Thank you for reading!
Disclaimer: Some of the links in this post are affiliate links for Interact Quizzes where I will receive a small commission if you decide to purchase. The price you pay does not change.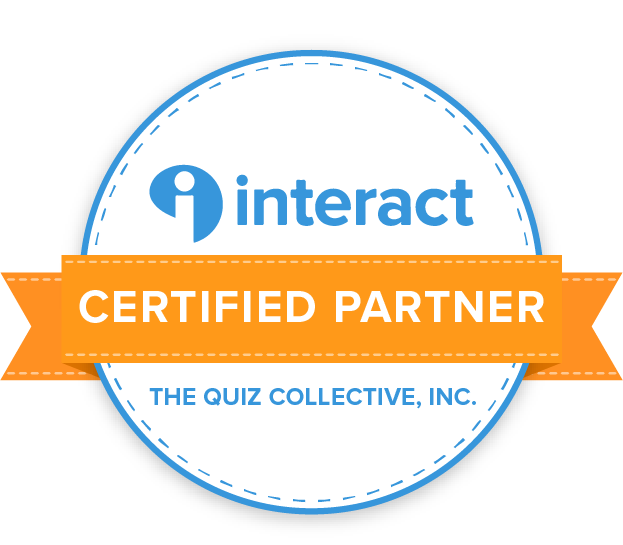 ---
Get free online marketing tips by email!